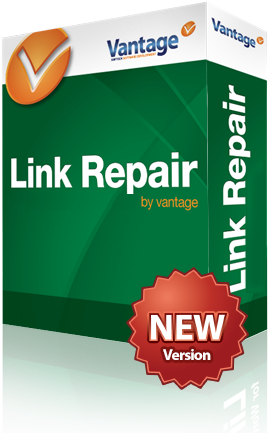 Easily fix broken hyperlinks in Microsoft Office, Excel links and Windows shortcuts with Link Repair. It will save hours of work!
Server migrations involve moving files and as a result links are broken, causing user frustration and considerable inconvenience.
Imagine having to open each document or shortcut to manually repair every link! Relax, as there is Link Repair.
To ensure Link Repair maintains its position as the market leader, we have introduced important new features.
BUY and Download

Download Trial

Old versions of Windows Server are being replaced in multiple locations at the moment and links are being broken – during this period, we are offering a 25% discount.
---
What does the software do?
In short – Link Repair saves you time and money!
You will be able to replace broken links and hyperlinks in documents in a fraction of the time it would take to do manually.
Link Repair is easy to install and requires no technical knowledge. Within minutes you can be updating hyperlinks and Excel links, and repairing shortcuts too.
The software is an ultra-high performance, multi-threaded application which programmatically edits and fixes broken links with exceptional speed. Link Repair searches for and replaces hyperlinks in almost every file format supported by Office applications (see Technical Details for a complete list). File types include Word documents, Excel spreadsheets, PowerPoint presentations, Visio drawings and Project files. It also repairs Excel links in formulas that refer to other workbooks. Link Repair changes Windows shortcuts too, swiftly enabling the updating of incorrect links with new ones.
If you have carried out a Windows server migration or moved multiple files, there is all probability that many links will now be incorrect. Link Repair from Vantage Softech gives you the ability to update these links with considerable ease.
All logic for repairing broken links is held within the Link Repair program: unlike some conversion programs Link Repair does not upload any of your documents to external systems. The only communication is secure licence verification with our servers. Security is paramount in all that we do and this includes the security of your data.
---
Key features
Save time and money
Fix hyperlinks in Microsoft Word, Excel, PowerPoint, Project and Visio, Excel links and Windows shortcut files (.lnk files)
Works with Office 2003, 2007, 2010 and 2013
Office formats for 2007 and newer does not require Office to be installed
Instant find and replace links in individual folders or entire network/local drives
Support for filters by file name, folder name or Microsoft application
Multiple file locations can be scanned
No limit on the number of documents converted or the number of users on your network
Search for more than one server name in a link at a time
Silent mode for Link Repair scheduling
Automatic log file creation detailing all documents checked and which links have been fixed
Your data is not exposed when using Link Repair, ensuring your security is maintained
Modify relative links
Support for long file paths
Link validation
Improved performance when scanning directories
Advanced RegEx options
---
Average rating:
4 reviews
Feb 1, 2017
We, as an IT department of a large MFG site, moved thousands of files from one server to another using a different path. This software did what it promised: replacing the links in the Office documents very fast. It was great that this migration went without too much problems for the business.
Jul 20, 2016
Good Job
We used Link Repair to replace invalid fileserver- with new DFS-paths mentioned in over thousand hyperlinks in hundreds of (Word-) files. After some teething troubles - macro-error for every document, we needed a user in an OU without GPO - the software finally did, what it should. 🙂
Dec 2, 2015
Good, works well.
My organization had a project that involved partitioning out a 500 GB drive full of various inter-linked office files into "business critical" and "non-business-critical" drives. I purchased Link Repair V3 to support this effort. Link Repair allowed us to update hyperlinks in thousands of various files, including those in sub-folders. The application is straight forward and easy to use. I really liked that I was able to modify the update rules in XML format, as that allowed me to make additional complex rules based on where the files moved and where the new hyperlinks pointed to. Technical support has also been very helpful in addressing my questions and even adding in requested functionality. Link Repair is also very competitively priced against similar products. One limitation of this application is that (to my knowledge), it will only change hyperlinks in documents, and not the associated human readable text. So if your hyperlink shows a file path, the link will update but it may appear to not have changed, which can cause some confusion to end users. Overall though, I would definitely recommend Link Repair.
May 7, 2014
Link Repair
After our IT department installed the new server, none of the links in any of the documents (which we created over the last six years!) were working. I found that the people from Vantage Softech had developed this unique solution. I installed it, and within a a few hours I had all links sorted. Just a simple yet very clever solution. Thank you Vantage.