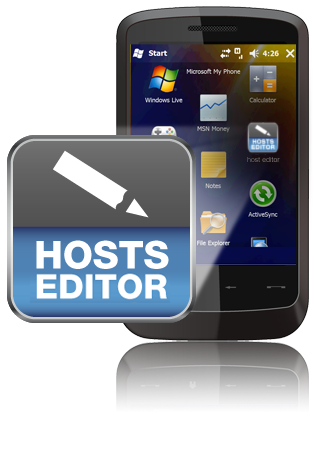 Using Hosts Editor you can redirect server requests to any IP address of your choice, rather than to the internet. On PCs you can do this by editing the hosts file, but on a smartphone or mobile this file does not exist. Hosts Editor provides the solution.
Your employees may use their mobiles to log in to the network using VPN for email. Instant connection is not possible, as before the VPN has initiated the phone will try to connect to a web address rather than the internal server. When this happens the phone will wrongly remember the link as broken, even after the VPN has connected.
BUY and Download

---
What does the app do?
Any employee can update the hosts file to connect a URL with the right IP address. So the phone will always look up that IP address even if the VPN connection to the server is lost. The application does not require any technical knowledge and is easy to download and install.
A simple email with a few instructions is all it takes, dramatically reducing administration costs and improving user experience.
---
Key features
Easy installation process
Single page interface (no technical knowledge required)
---
As a salesman I am always on the road and I always had problems connecting to the company network using my smartphone. Using Hosts Editor solves this issue. Another example of the simple but powerful tools from Vantage Softech.
---