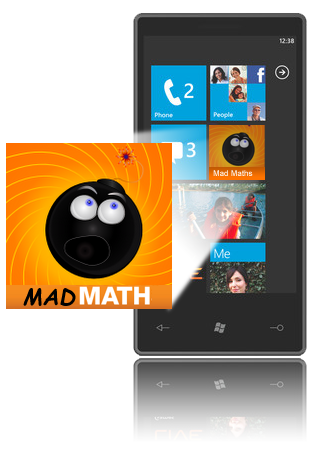 Mad Math is a great game for all ages. After an easy install, users can select various levels of maths problems. It is a fun way to keep your brain active.
You can even play with two players which makes it more like a mathematical tennis game. It's quick, it's all action and it's maths. What's not to like?
---
What does the app do?
The game opens with a set-up screen where the user selects the number of players (one or two), adds the name(s), selects the play level and arithmetic type (add, subtract, multiply, divide, or all).
The user needs to answer the questions as quickly as possible with as few mistakes as possible. The pressure is on as there is a rather short-fused bomb waiting to explode! So don't take too long to come up with the answers! At the end of the game the score appears on a scoreboard.
With the two-user option, two players play against each other as fast as possible. It's an exciting game that demands the right mix of intelligence and speed.
---
Key features
One and two player option
Fun visual timer
Scoreboard
Additional fun button options
---
OK, I am not an addict (yet), but this game got me really hooked. It's the speed that I like. My son loves playing it with me, using the two player option and often beats me. He's only 9! The best thing about it is that it keeps your brain active, but in a fun way.
---