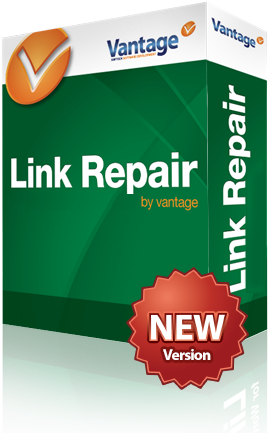 In July 2015, Microsoft withdrew support for Microsoft Windows Server 2003 R2. When new servers are installed, the data migration involved will result in Microsoft Office links getting broken, causing user frustration and considerable inconvenience. Link Repair will:
Automatically fix your broken links, hyperlinks and Windows shortcut files.
Work with Microsoft Office 2003, 2007, 2010 and 2013.
Save hours of your time and save money.
To ensure Link Repair maintains its position as the market leader, we have introduced important new features.
BUY and Download

Download Trial

---
What does the software do?
In short – Link Repair saves you time and money!
You will be able to replace broken links and hyperlinks in documents in a fraction of the time it would take to do manually.
Link Repair is easy to install and requires no technical knowledge. Within minutes you can be updating hyperlinks and Excel links, and repairing shortcuts too.
The software is an ultra-high performance, multi-threaded application which programmatically edits and fixes broken links with exceptional speed. Link Repair searches for and replaces hyperlinks in almost every file format supported by Office applications (see Technical Details for a complete list). File types include Word documents, Excel spreadsheets, PowerPoint presentations, Visio drawings and Project files. It also repairs Excel links in formulas that refer to other workbooks. Link Repair changes Windows shortcuts too, swiftly enabling the updating of incorrect links with new ones.
All logic for repairing broken links is held within the Link Repair program: unlike some conversion programs Link Repair does not upload any of your documents to external systems. The only communication is secure licence verification with our servers. Security is paramount in all that we do and this includes the security of your data.
If you have carried out a Windows server migration or moved multiple files, there is all probability that many links will now be incorrect. Link Repair from Vantage Softech gives you the ability to update these links with considerable ease.
---
Key features
Save time and money.
Fix hyperlinks in Microsoft Word, Excel, PowerPoint, Project and Visio, Excel links and Windows shortcut files (.lnk files)
Works with Office 2003, 2007, 2010 and 2013
Office formats for 2007 and newer does not require Office to be installed
Instant find and replace links in individual folders or entire network/local drives
Support for filters by file name, folder name or Microsoft application
Multiple file locations can be scanned
Search for more than one server name in a link at a time
Silent mode for Link Repair scheduling
Automatic log file creation detailing all documents checked and which links have been fixed
Your data is not exposed when using Link Repair, ensuring your security is maintained
Modify relative links
Support for long file paths
Link validation
Improved performance when scanning directories
Advanced RegEx options
---
After our IT department installed the new server, none of the links in any of the documents (which we created over the last six years!) were working. As head of documentation I was responsible for this. It caused me sleepless nights until I found that the people from Vantage Softech had developed this unique solution. I installed it, and within an hour I had all links sorted. Just a simple yet very clever solution. Thank you Vantage.
---